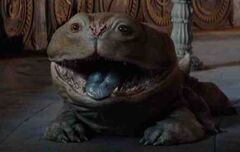 Woola is an ugly creature called a Calot, he is the loyal pet of John Carter because John Carter was the first person to ever show compassion towards him.He is incredibly fast, and has an amazing sense of smell!
Ad blocker interference detected!
Wikia is a free-to-use site that makes money from advertising. We have a modified experience for viewers using ad blockers

Wikia is not accessible if you've made further modifications. Remove the custom ad blocker rule(s) and the page will load as expected.