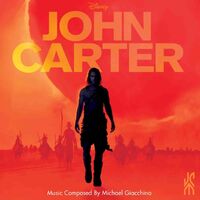 The John Carter soundtrack is the official soundtrack written by Michael Giacchino for the Disney film John Carter. It has been released on March 6.
Track Listings
Edit
A Thern for the Worse
Get Carter
Gravity of the Situation
Thark Side of Barsoom
Sab Than Pursues the Princess
The Temple of Issus
Zodanga Happened
The Blue Light Special
Carter They Come, Carter They Fall
A Change of Heart
A Thern Warning
The Second Biggest Apes I've Seen This Month
The Right of Challenge
The Prize Is Barsoom
The Fight for Helium
Not Quite Finished
Thernabout
Ten Bitter Years
John Carter of Mars
Ad blocker interference detected!
Wikia is a free-to-use site that makes money from advertising. We have a modified experience for viewers using ad blockers

Wikia is not accessible if you've made further modifications. Remove the custom ad blocker rule(s) and the page will load as expected.